HINCHINBROOK OPEN FOR BUSINESS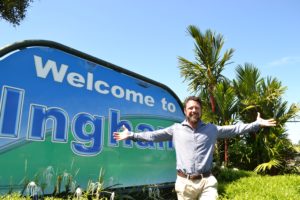 HINCHINBROOK MP Nick Dametto has boldly declared the region open for business after floodwaters devastated the region last week.
With clean up and recovery efforts now underway, Mr Dametto urged all residents and visitors to keep the tills ringing for businesses hit hard by flooding.
"Local businesses have taken a major hit over the past week in being unable to trade and we must do whatever we can to keep our economy going," he said.
"Whether it's grabbing a feed at an eatery, picking up a pair of stylish heels from a boutique fashion outlet, enjoying a beer at the local pub or hitting the trails on a mountain bike, every dollar helps business get back on its feet.
"And let's not forget the many wonderful natural attractions Hinchinbrook has to offer, from the rainforest to the reef."
Hinchinbrook Chamber of Commerce, Industry and Tourism president Rachael Coco said businesses within the shire were a resilient group and she had no doubt they would be back "better than ever".
"When we shop locally, we're not just supporting local business houses. We're supporting local jobs, both now and in the future," she said.
"We're supporting the businesses who support our schools, sporting clubs, community organisations and events. And we're cultivating a prosperous future for our children and grandchildren."
Mrs Coco said she was particularly excited about this Sunday's Commonwealth Games Queen's Baton Relay celebration in Ingham, which would take a scenic path through the boardwalks at TYTO Wetlands, down Tully Street and into the town's CBD.
"This allows the community and visitors to embrace the stunning parklands and unique artworks that brighten our already beautiful shire while celebrating the Commonwealth Games and cheering on the local champions who will carry the torch," she said.
"A novel and fun-filled street party will cultivate community pride, engage spectators and is sure to be enjoyed by people of all ages."
Townsville Enterprise CEO Patricia O'Callaghan said the whole of North Queensland needed to get behind the Hinchinbrook region now more than ever.
"Ingham and the wider Hinchinbrook region has been through an incredibly tough time and we encourage all North Queenslanders to support this community," she said.
"We'd love to see as many locals as possible from all over North Queensland visit Ingham to celebrate the Queens Baton milestone while acknowledging how well the community has bounced back."
Locals and visitors can head to www.hinchinbrookway.com.au for ideas on the many wonderful attractions, tours and dining options Hinchinbrook has to offer.
Key attractions include Wallaman Falls, Lucinda Jetty, the Ingham Cemetery and several world-class fishing spots.
Birdwatchers and nature lovers can't go past the TYTO Wetlands or Mungalla Station, while those who appreciate art, culture and history can observe the Mercer Lane Mosaics in Ingham's vibrant CBD.
"We truly live in a beautiful part of the world and I encourage everyone to get out and explore what's on offer," Mr Dametto said.
"You could head to the gorgeous Wallaman Falls, shop till you drop in Ingham or make a splash at one of our picturesque beaches.
"Sydney residents have the Hunter Valley as a getaway for the weekend and Hinchinbrook is the perfect answer for Townsville.
"Our local economy will be all the better for it."
Those in Hinchinbrook Shire who are affected by flooding are urged to call the Community Recovery Hotline on 1800 173 349.