Dametto revs up for planned motorsport precinct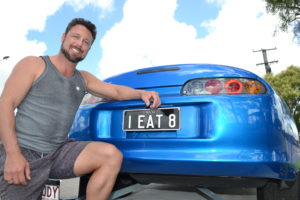 WITH 900hp rumbling beneath his feet, Hinchinbrook MP Nick Dametto knows just how much blood, sweat and tears go into building a high performance dream car.
And that's why the avid revhead, who drives a custom Toyota Supra, is calling on the State and Federal governments to put pedal to the metal in funding a proposed motorsport precinct near Townsville.
Mr Dametto has enthusiastically backed motorsport body Drive It NQ's $23.3 million proposal for an all-in- one facility at Calcium west of Townsville, saying it made sense on a number of levels.
"This facility is something North Queensland has been crying out for," the Katter's Australian Party MP said.
"Not only will it offer an outlet for professional and recreational motorsport, but it will also be a place where young people can learn to drive within the confines of a controlled environment.
"If we want to improve driver safety and behaviour on our roads, I have no doubt a facility such as this is the answer."
The facility, which already has a $5 million commitment from the Federal Government, still needs a further $18.3 million in funding.
In February 2016, Townsville City Council signed a long-term lease with Drive It NQ over a council-owned tract of land at Calcium where the facility will be based.
Mr Dametto fully supported other aspects of the proposed facility, including advanced and defensive driving courses, emergency services training and a 4X4 adventure park.
"I know this facility is needed now more than ever after the recent planning court ruling that banned motorcycles and cars from racing at Townsville Kart Club," he said.
"If you don't have a facility for motorsport enthusiasts where they can enjoy racing in a competitive, controlled and safe environment, it's inevitable some will resort to hooning in our streets where there is a massive risk to public safety."
Drive It NQ director and chairman Pat Driscoll said if established, the facility could contribute an estimated $35 million per year in economic benefits for Townsville.
"This is a unique business case where we have a motorsport facility that funds a driver education facility, so we're getting plenty of bang for our buck," he said.
"As well as that, we have the ability to save lives."
Dametto revs up for planned motorsport precinct
Mr Driscoll said a $5 million commitment from the State Government for the facility would enable Drive It NQ to go back to the Federal Government and ask them to double their original contribution through the Building Better Regions Fund.
Mr Dametto is heading north today to go drag racing at Springmount Raceway's annual Northern Nats and hopes to eventually be doing it closer to home at Drive It's proposed facility.
"The hard work, vision and determination shown by those involved with Springmount proves what you can do when a group of like-minded individuals combine their passion for advancing motorsport in the region," he said.
"I take my hat off to them and have no doubt with the right amount of government funding, Drive It NQ can realise their dream of a world-class facility for North Queensland."
Springmount Raceway managing director Evan Yelavich said the facility had been a roaring success since it was first opened in 2016.
"We saw a big need for it in the region," he said.
"We believe it does have road safety benefits and it provides somewhere legal for motoring enthusiasts to do what they like to do."
Mr Yelavich said if Drive It NQ's motorsport facility went ahead, there were obvious benefits for Springmount Raceway.
"I could see us having a regional series running with drag racing and other motorsports," he said.
"There is a track in Mackay, but I think at the moment we're lacking that connectivity. If we had one in Townsville as well, there would be a strong case to run regional championships between those tracks.
"It's something we'd be interested in being a part of and working with a track in Townsville to put on big events."
Mr Yelavich said Springmount's Northern Nats gave nearby Mareeba a substantial economic boost as rev heads from across the country arrived for the action-packed event.
"There's certainly a lot of people in town right now spending money that have arrived for the event," he said.
"I know all the local motels are all booked out. We've got competitors here from Western Australia, Victoria and New South Wales – all over the country."
Mr Dametto's Supra will be running on a fuel blend of 85 per cent ethanol, a sugar cane-derived biofuel.
In the last Queensland parliament, Katter's Australian Party (KAP) was able to achieve a mandate requiring four per cent of the total volume of regular unleaded petrol sales and ethanol-blended fuel sales by liable retailers to be ethanol-based fuel.
The ethanol mandate takes effect on July 1, but the KAP is calling for a 10 per cent mandate by 2025.
"With cane the predominate crop in Hinchinbrook, I know just how beneficial a 10 per cent ethanol mandate would be to farmers in my electorate," Mr Dametto said.
"There is huge potential to grow that market and I urge the State Government to consider our party's proposal."